MURPHYSBORO — Five-year-old Kayden Bolter came over to the pavilion, laying down some outer clothing he'd peeled off, before jetting back off across the lawn to the jungle gym.
Sitting on the bench next to where he laid his clothes was Britany Scholz, holding her son, Zackary, who turns 6 today.
"Whereas he (Zackary) is older, he looks smaller," Scholz said of Zackary.
Zackary, who turns 6 today, is somewhat smaller than the other family friend, his body challenged by a neurological disorder call Rett Syndrome. The neurodevelopmental disorder primarily affects girls, but has been known to develop in boys, and is characterized by normal early growth and development, followed by a slowing development, according to the National Institutes of Health's National Institute of Neurological Disorders and Strokes.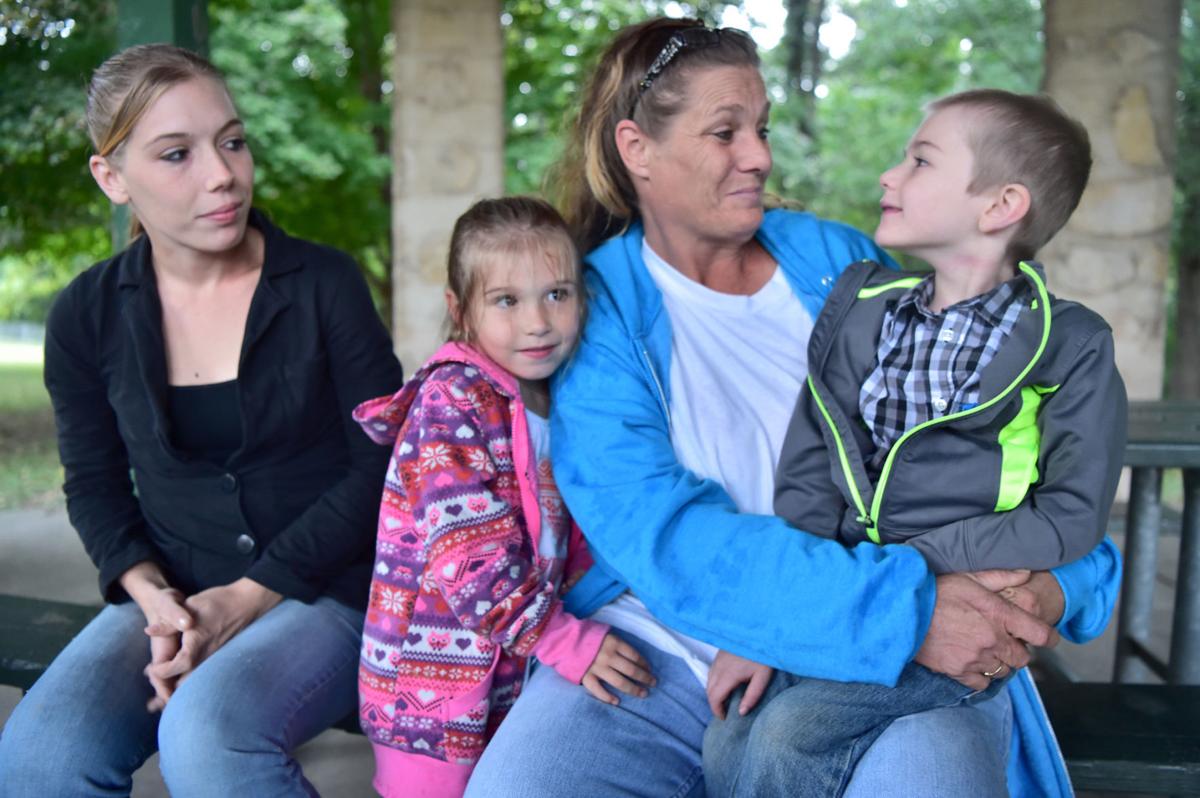 It is not known exactly how prevalent it is among boys, according to rettsyndrome.org.
Soon after Zackary was born, he started having seizures, which have continued throughout his life, occurring anywhere from once a day to once a week, she said. Family members originally thought he had some form of autism — a common misdiagnosis of Retts — but Zackary's troubling seizures and muscle weaknesses were diagnosed as Rett Synddrome by a doctor in St. Louis earlier this year.
"This is the first time we heard of this," Zackary's grandmother, Shellie Scholz, said.
Shellie Scholz said she's been told that little boys with the disease have very shortened life spans.
"He's a miracle," she said. "He's our miracle boy."
Shellie, Britany and other family an friends are organizing a 5K walk on Saturday morning, Oct. 8, to raise funds for medicines and travel expenses to and from St. Louis not covered by his father's insurance. They are also hoping to be able to purchase a special communication system that will help family, teachers and others better understand his needs and wants.
They are asking participants to pay $20 to join the 5K, which will run through Riverside Park in Murphysboro. The event is on, rain or shine.
Some family members may be sporting purple hair or mohawks to show their solidarity with Zackary during October, which is Rett Syndrome Awareness Month.
Zackary is nonverbal and cannot feed himself and can only walk for short amounts of time.
Britany said one of the frustrating things is trying to figure out what he wants when he becomes agitated, as he did after spending about an hour in Riverside Park; he let out a shrieking cry, which Britany interpreted as Zackary's desire to leave the park and head home for his favorite thing to do: watch cartoons.
"You don't know what he's saying," Britany said. "That's a guessing game."
"Today has been a good day," his mother said. "He's been walking around, active."
Zackary can walk on his own, but the family uses a specially designed wheelchair to help move him when he grows too tired to walk, which is frequently. Zackary attends a tri-county program for children with special needs at Mcelvain Elementary School in Murphysboro.
His teacher, Charlotte McLaughlin, said she had heard of the disease prior to Zackary's diagnosis, and noted that it is very rare for a male child to have it.
"There is a lot of time that mom spends with Zackary," monitoring his health and welfare, McLaughlin said. She said there are two aides in the class of seven students that she oversees.
There is no cure for Rett Syndrome, according to the National Institutes of Health website.  To his family, though, he is their little miracle.
"They say when boys get it, it takes them," Shellie said. "He's still here, and we're praising God for that."
SOURCE: http://thesouthern.com/