Ste Walker – who suffers from Crohn's disease – was tired of being told by strangers that he doesn't look ill, so he took to Facebook to share his struggle with his "invisible disease."
"I bumped into someone I know down at the hospital and he said, 'What are you still doing here? You look totally fine,' " Walker, 24, told PEOPLE. "That just made me blow my top. I am sick of people saying to me, 'You don't look poorly' or 'Crohn's isn't that bad.' I'd kept it all bottled inside, so I had a rant on Facebook."
The U.K. native's Facebook post imploring people not to make snap judgments about his health just because he "looks normal" now has over 72,000 views.
"Yes, I was afraid to reveal [my disease], but I think the world needed to see it, and the world needed to be taught that I am a person, I have feelings and they don't know the struggles I go through," he says.
Because of his disease, Walker does not have a functioning stomach or duodenum (a part of the small intestine), and has not been able to eat or drink anything in two years. He has had three major operations, and 77 minor ones.
"Invisible illnesses need more awareness because there isn't enough knowledge out there about them," he says. "Everyone knows cancer, but not everyone knows Crohn's – it [also] takes lives, and it's incurable."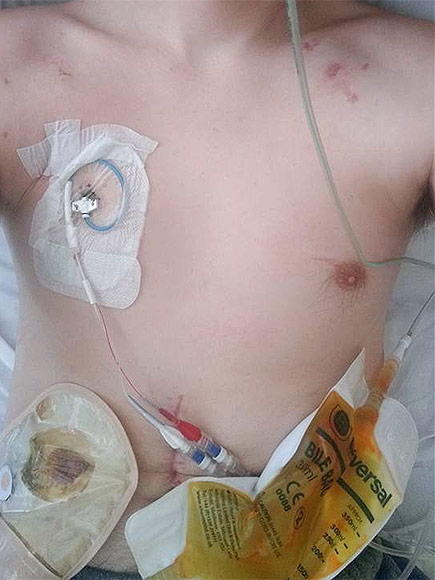 Having been in and out of the hospital over the past three years, Walker has accumulated thousands of dollars in medical bills and is now trying to raise money through a Go Fund Me page. He is thankful for the outpouring of encouragement, thanks to his now-viral Facebook post.
"The support I have received is amazing," he says. "I really didn't expect [my post] to go viral, and the amount of well wishers I've had from all over the world is amazing. It's down to them that I keep going, that I keep surviving another year."